The Halford Driving School provides professional driving lessons in the Bedfordshire and Northamptonshire area's.
Friendly and patient tuition with an excellent pass rate since 1992.
Catering for learners through to experienced and advanced drivers, we offer a professional service covering all aspects of driving.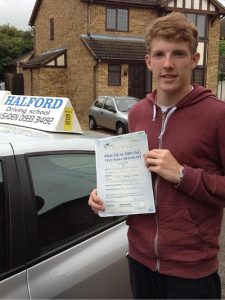 "We offer a wide range of lessons including refresher driving, Pass Plus, motorway driving and semi intensive courses."
The Halford Driving School has developed an excellent reputation in the local area. We have had many personal recommendations, why not take a look at comments from our happy customer base!
We are the ideal choice for:
Driving lessons
Refresher driving
Pass Plus
Advanced driving
Motorway driving
Semi intensive courses
Drink Driver & Convicted Driver tuition
Fleet Owners… Save Money
If you run a fleet of vehicles under 3.5 tonnes i.e.
Then you will be all too aware of the spiralling cost of:-
Fuel
Insurance
Losses from a vehicle and person off the road
Our driving training courses for those with a full driving licence can literally pay for themselves within weeks with savings on:-
reduced petrol and diesel consumption
Fewer insurance claims (frequently insurance companies will offer lower premiums for drivers with advanced driving skills
Fewer vehicle days off the road and less work time lost as a result of accidents
With many years experience Colin Halford can help your business save money, please do contact HDS to arrange an exploratory meeting.
Young Driver Training
This programme is aimed at those under 17-years old who are interested in learning to drive and are seeking to try out driving a real car on a private airfield. Learn to drive safely from day 1.
By starting off during your 16th year at the Alconbury Driving Centre – when you are 17 you can carry on your driver training on public roads with The HDS School of Motoring knowing that you have a solid foundation.
For more information about this service please do contact The HDS School of Motoring.
Late evening, or if you prefer, please use this form to contact The Halford Driving School
Driving Related Links